Welcome back…
I'm going to use a different nutrition system than P90X recommends I will write about it to explain my reasons and also highlight the information that lead me to these conclusions.
First let me restart my goal with P90X – it is to strengthen my core so I can participate in the outdoor activities I love for the rest of my life – these include snowboarding, skiing, backpacking, running, cycling and soon swimming.
From prior training experience I understand that my body can shed weight quickly as I transition from sedentary to active, and that many man made nutrition supplements give me gastric distress and/or are too sweet for my palate.
I've tried different gels, blocks and bars – and I was lucky to find the products at HammerNutrition.com; they've got a great system that didn't cause me any gastric distress or other problems during training, and they educated me to allow me to progress through unexpected events during my events.
I always recommend going directly to the source, to so I recommend that you read Hammer's The Endurance Athlete's Guide to Success. You can purchase the paperback book here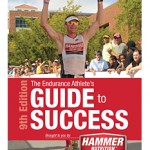 or you can download the free PDF version.
This is a great resource that educates you about Fueling, Hydration, Electrolyte Replenishment, Caloric intake, Recovery, Top Mistakes, and Protein.
In my future posts I'll explain how I use Hammer Products and other foods to fuel for an active life!